Pressure group Occupy Ghana, has released what it says is the contract agreement between Government and the Smarttys Management for the branding of 116 Metro Mass Transit (MMT) buses, that cost the tax payer Ghc3.6 million. Occupy Ghana has been given several documents on the controversial deal by the Attorney General after they secured a court order in their favour.
In the one-page document, it emerged that among several flaws in the contract, the then Transport Minister, Dzifa Attivor, who resigned after the scandal broke out, did not have her signature on the contract. In a Facebook post on Wednesday, a member of the group, a private legal practitioner, Ace Ankomah, posted a copy of the one-page contract and said, "We know that with contracts, length or size has nothing to do with it (all naughty puns excluded). But it is scandalous and insulting to Ghanaians that the entire Smartty's 'Contract', when it finally came to be signed, was effectively just a-ONE-PAGE document. And when one takes out the puffs and fluffs on that page, the only terms are captured in six (6) lines! The second page was for signatures, and then some 5 or so pages of useless documents generated by Smartty's were added to pad and beef it up.
"Yes, almost $1m of your money was being frittered away in an illegal sweetheart transaction with the yet-undenied endorsement of the Office of the President (the same Office of the President that ordered the investigation and does not have the courage, spine to publish the AG's report), and they didn't even bother to get a first-year lawyer to write a half-decent contract. 
"Worse, the Minister DID NOT SIGN THE CONTRACT."
Below is the said contract Background Government's decision to spend GHc3.6 million of Ghana's oil revenue on branding some 116 Metro Mass Transit (MMT) buses has been widely criticized and described as reckless.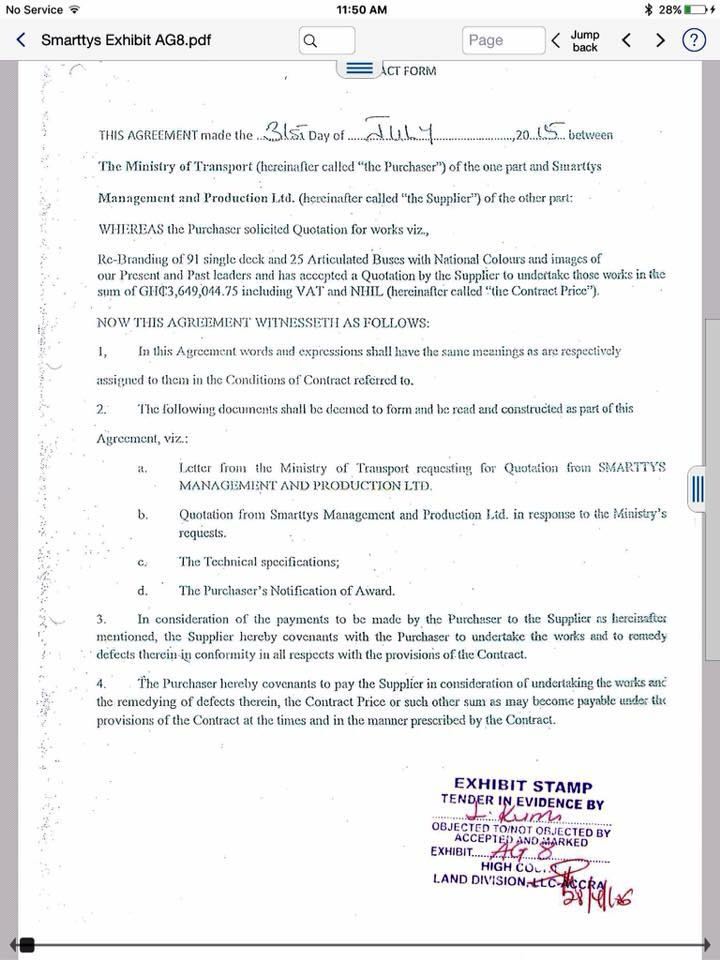 The scandal compelled the Transport Minister, Dzifa Attivor to resign after a massive public outcry. The Chief of Staff, Julius Debrah, subsequently ordered the Attorney General to investigate the matter after which Smarttys was ordered to refund the excess payments made. Meanwhile a leaked report of investigations into the contract, suggested that the contract with Smarttys was commenced and concluded long before the procurement process started; a conduct that violated the nation's procurement laws. We'II pursue AG for more on bus branding scandal Pressure Group Occupy Ghana, has said it will continue to put pressure on the Attorney General (AG) until she releases all reports on the controversial Smartty's bus branding scandal.